Indigenous Artist Panel during Late Night at the Loeb
February 4, 2021 - 6:00 PM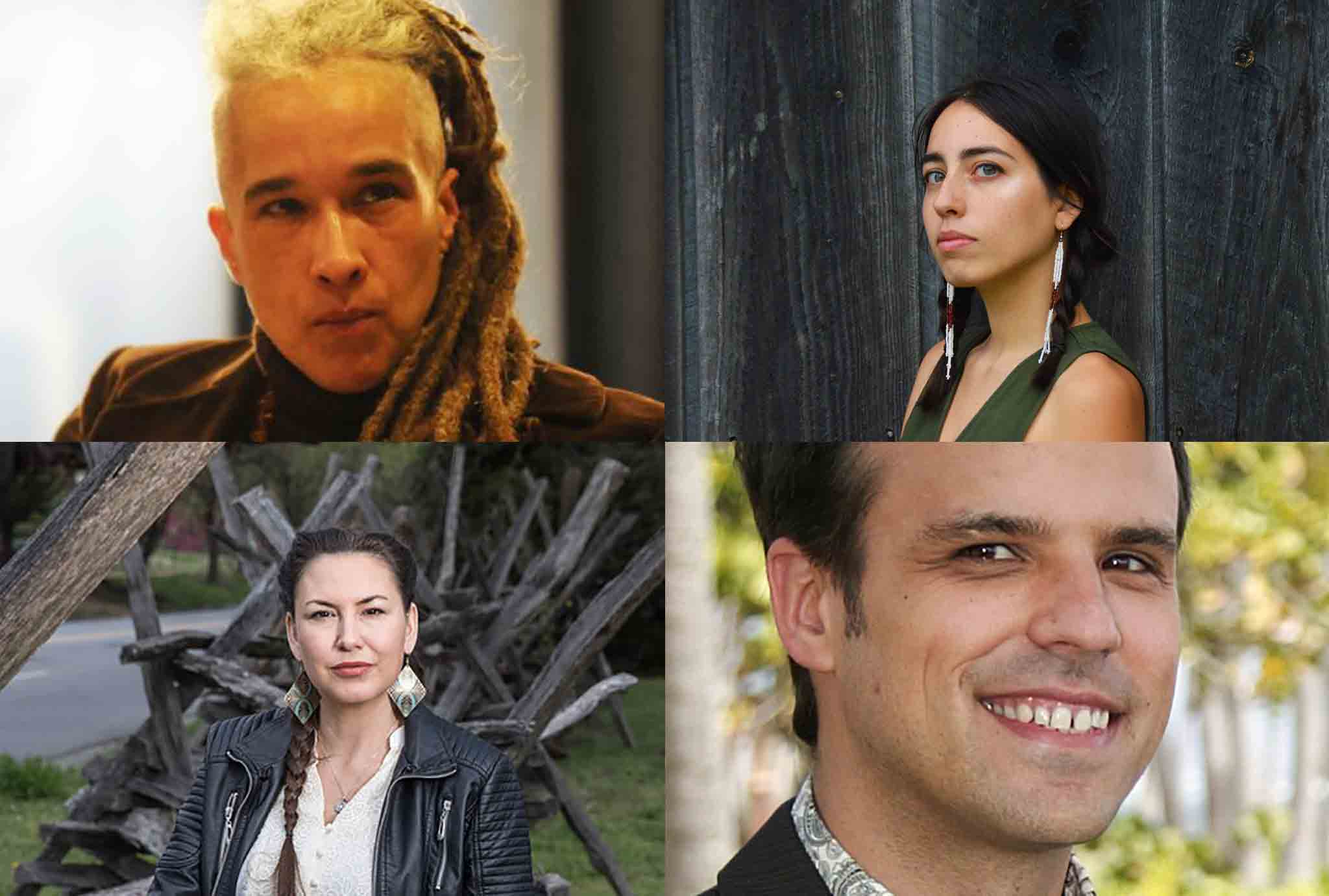 Moderated by interdisciplinary artist Storme Webber, several native artists conducted a dialogue around the complicated relationship between land and art, land acknowledgements, and other current issues facing institutions and indigenous artists.
Panelists
Storme Webber
Storme Webber (Moderator) is a Two Spirit Sugpiaq/Black/Choctaw poet and interdisciplinary artist. Her work is cross genre, incorporating text, performance, audio and altar installation, archival photographs and collaboration in order to engage with ideas of history, lineage, gender, race and sexuality. Her practice explores liminal identities, survivance and decolonization, and does so in a blues/jazz-based experimental manner, often incorporating acapella vocals. Her performance is described by the artist Laiwan as poetics/jazz.
She has received numerous honors and residencies; including from Hedgebrook, Ragdale and Banff Arts Centre, and recently was honored with the James W. Ray Award. Her first solo museum exhibition, "Casino: A Palimpsest", was presented at Frye Art Museum in Seattle. Minh Nyguyen, in Art in America, wrote: "Rather than erect divisions between personal art and historical archives, 'Casino' considered the intangible properties by which art and poetry are connected to family, ancestry, language, and public memory, revealing intergenerational, underground histories of resilience."
She studied at Lakeside School, and holds a BA from the New School and an MFA from Goddard University.
Her most recent book/CD is "Blues Divine."
Inquiries welcomed at www.stormewebber.com
Most recent work is the permanent public art installation "In This Way We Loved One Another" for The AMP Project.
Andre Bouchard
Andre Bouchard (of Kootenai/Ojibwe/Pend d'Oreille/Salish descent) is an internationally recognized agent, producer and consultant who was born and raised on the Flathead Reservation in western Montana the son of a CSKT-enrolled father and a white mother. As a person with a background in both Native and non-native worlds Andre aspires to serve as an inter-cultural activist, working to build bridges and reverse the invisibility that serves to marginalize Native people in the US. Andre's primary background is as producer of dance, theatre, music and multi-disciplinary performance but has worked in practically every roll in the performing arts since he began as an active artist and arts administrator in 1999. In 2001 he founded Walrus Performance Productions, a non-profit dedicated to providing first opportunities to choreographers, playwrights and multi-disciplinary performing artists in the Pacific Northwest. In this role he opened the Walrus Theatre, a blackbox venue in the heart of Seattle's Capital Hill which fell victim to the real estate boom of 2008. In 2010 he founded Walrus Arts Management and Consulting which was expanded in 2015 to serve as a home to the first Native run performing arts booking agency representing Indigenous dance, theatre, music and multi-disciplinary artists. In 2019 he founded Indigenous Performance Productions, a non-profit company dedicated to production of touring Indigenous performing arts festivals.
He has served on over 30 grant panels in the last eight years, most notably serving on five National Endowment for the Arts panels. He has been invited to deliver keynote speeches or anchor workshops at or for the Asia Pacific Dance Festival, Jacob's Pillow Dance Festival, the Indigenous Performing Arts Alliance (Canada), Dance/USA, Association of Performing Arts Professionals, Western Arts Alliance, Arts MidWest, Arts Northwest, WESTAF, Montana Performing Arts Consortium and the Canadian Dance Assembly among others. He has been a guest speaker or instructor at Dartmouth College, Carnegie Mellon University, Robert Morris University, Northwest Indian College, College of Menominee Nation and Goddard College.
He holds a Master's degree in Arts Management from the Heinz College at Carnegie Mellon University, a BFA in Dance and a BA in Anthropology from the University of Montana. He has had the honor of serving as an Association of Performing Arts Professionals/University of Southern California Leadership Fellow, was the founding Chair of the Western Arts Alliance Indigenous Committee and was the co-designer of the Advancing Indigenous Performance Program (helping to secure substantial funding for its founding) and is currently serving on the Western Arts Alliance Conference Committee, the Arts Northwest Board of Directors and is a Commissioner with ArtsWA (the Washington State Arts Commission).
Mali Obomsawin
Mali Obomsawin is a musician, activist, and citizen of the Abenaki First Nation at Odanak. She is a bassist, songwriter, composer, and singer, with an eclectic background in pop, free/avant-garde music, and American roots styles. Obomsawin tours internationally with her indie-folk-rock band Lula Wiles (Smithsonian Folkways Recordings), and gigs as a freelance bassist in New York City where she resides. As an Indigenous liberation activist and scholar, she has most recently published her work in Smithsonian Folklife Magazine and the Boston Globe. She received a B.A. in Government and Comparative Literature from Dartmouth College in 2018.
DeLanna Studi
DeLanna Studi (Cherokee) most recently starred in ASTORIA: PART ONE at Portland Center Stage and Indiana Repertory Theatre's FINDING HOME: INDIANA AT 200. DeLanna's Off-Broadway Debut in INFORMED CONSENT, at the Duke Theater on 42nd Street, was a New York Times Critics' Pick, which described her performance as "moving gravity." She was a company member of the Oregon Shakespeare Festival for two seasons, where she was one of only 10 Native people (onstage and off) to have done so! She performed in the First National Broadway Tour of the Tony and Pulitzer Prize-winning AUGUST: OSAGE COUNTY. She has won awards for her performances in Hallmark/ABC's DREAMKEEPER and Chris Eyre's EDGE OF AMERICA. DeLanna also tours in the Encompass Compassion Play KICK, a one-person show, written by Peter Howard, which explores the power of images, stereotypes, and Native American mascots. She recently starred in the short film BLESSED and can be seen in ABC's GENERAL HOSPITAL, Showtime's SHAMELESS and SyFy's ZNATION. She is the current chair of the SAG-AFTRA Native Americans Committee. Her next project, in addition to AND SO WE WALKED, will be Portland Center Stage's ASTORIA: PART TWO. This spring, she will begin writing the memoir counterpart to AND SO WE WALKED.
With a special introduction by Vassar Alumna Pilar Jefferson.
Pilar Jefferson ('15) is a current PhD student in the department of Ethnic Studies at the University of California at Berkeley. At Vassar she majored in Art History with a correlate in Native American Studies focused on 20th century Native American art and cultural resilience. While at Vassar she worked as a student docent at the Frances Lehman Loeb Art Center which led her to a post graduate career in museum education in New York City. She worked primarily as an education coordinator at the Museum of the City of New York, and as a teaching artist for Arts & Minds, an art practice based museum program for adults with Alzheimer's and Dementia. Pilar's pursuit of a PhD comes out of a desire to understand and support better representation of Indigenous people in museums and to theorize how museum education practice can be a tool on the path to decolonization.